Granite Countertops
---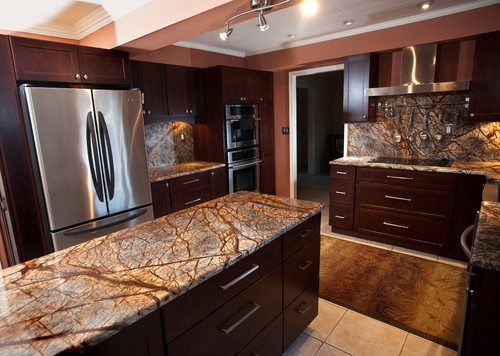 What is granite?
There are many types of granite countertops. Granite is composed of melded stones which include quartz, feldspar, biotite, mica and sometimes amphibole. Granite patterns can be either consistent or varied. Consistent granite contains the same pattern throughout the slab while varied granite has veining or swirling patterns which may change from one portion of the same granite to another. The almost endless variety of colors and patterns in granite makes it certain for you to locate your dream stone and at the same time obtain a kitchen look that is unique to your taste and pleasure.
The beauty, durability and safety of granite is embraced by homeowners all over the world. The natural look of granite makes it the number one choice for the enhancement of homes and spaces. Granite is an ideal choice for countertops since it is highly resistant to scratching, cracking and staining. Granite is also impervious to heat, so daily kitchen activities pose no problem. It can take a hot pot without the use of a trivet.
Cost of granite countertops
The durability benefits of granite justifies its pricing, not to mention there are more than 20 shades of granite to choose from.
Granite countertops recommendations
Our technicians have years of experience in installing, repairing, and selling of granite countertops. If you are interested in learning more about granite countertops or our installation or restoration services, please reach out to us by contacting us.